Connects: Glenwood Canyon, Horseshoe Bend Park, No Name Rest Area, No Name Trail (Jess Weaver Trail), Grizzly Creek Rest Area, Grizzly Creek Trail, Shoshone, Glenwood Falls (Winter), Hanging Lake Rest Area, Hanging Lake Trail, Bair Ranch Rest Area, Burnt Tree Ridge Trail
Glenwood Springs, CO – Easy – 16 Miles – Walk, Hike, Run, Road Bike, Dog Friendly – Paved
Glenwood Canyon Trail, also called Glenwood Canyon Bike Path and Glenwood Canyon Recreation Path, is a 16 mile easy trail you can walk, hike, run, and road bike that is dog friendly. The trail hugs the Colorado River and is on the other side from Amtrak's California Zephyr. This is a 16 mile paved trail that follows Highway 70 through the Glenwood Canyon from Glenwood Springs to Dotsero, CO.
News about the Glenwood Canyon Trail can be found at:
Post Independent (June 25, 2015) – Aspen-to-Vail Pass bike trail inches closer to reality
Post Independent (April 19, 2006) – Glenwood Canyon bike path " a ribbon of recreation
More information about the Glenwood Canyon Trail can be found at:
White River National Forest – Glenwood Canyon Recreation Path (Biking)
A sign at the Glenwood Canyon Trailhead reads: (Click to expand)
"Glenwood Canyon through Horseshoe Bend and No Name
The Horseshoe Bend area has drawn sightseers for over one hundred years. Artist's Point, an area along the Scout Trail on the south side of the river, was a favorite viewpoint. In 1968, the original highway which followed the curve of Horseshoe Bend was rerouted through the tunnels and the old highway became this trail. As highway construction in Glenwood Canyon is completed, the new bike trail will continue on through the canyon.
The Colorado River was named the "Bunkara" by the Ute Indians and later the "Rio Grande de Buena Esperanza" by early Spanish explorers. From Glenwood Springs, streams entering the river include No Name and Grizzly Creeks. Shoshone Falls lies upstream from the historic Shoshone hydroelectric plant. A popular tourist attraction is Hanging Lake and Spouting Rock, up Dead Horse Gulch.
The Glenwood Canyon is certainly one of the most beautiful places on earth. Originally called Canyon of the Grand, its name was changed by official decree in 1914. The Denver and Rio Grande Railroad came to Glenwood Springs in 1887 after spending over $2 million dollars for canyon construction. The "Vista Dome" railway car was invented by C.R. Osborn, a vice-president of General Motors, who frequently traveled this route and thought passengers should take in the full glory of the rugged canyon walls.
Taylor State Road (now Interstate 70) was first constructed as a Denver to Grand Junction route in 1906 at a cost of $60,000 over half of which went into the Canon portion of the road.
The unincorporated town of No Name was settled in the early 1880's by homesteaders and became home to No Name Canyon Sawmill. Bennett Sawmill was located at the grassy meadow south of the river and east of No Name. A U.S. Forest Service trail follows No Name Creek up to the Flat Tops."
Glenwood Canyon & Hanging Lake Trail Map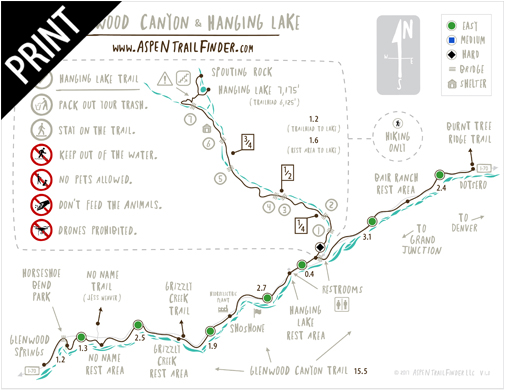 Glenwood Springs – Glenwood Canyon Map

Glenwood Springs Trailhead
View Larger Map

Dotsero Trailhead
View Larger Map
Comments