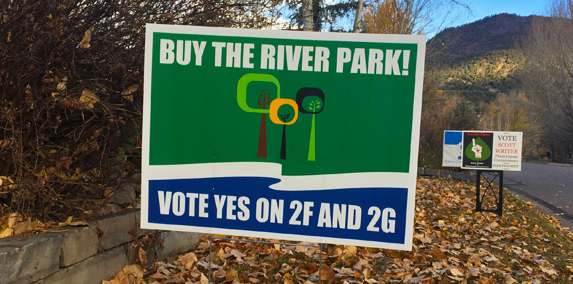 This November Basaltines are voting on a piece of land that's become Basalt's precious park. Questions 2F and 2G asks Basalt residents if they want to buy a Pan and Fork Parcel (2.3 acres) and for 4 million dollars for park amenities. But, this is not about a park. The park already exists. This isn't even about a bigger park, it's about something else.
The storm over this piece of land is about downtown vitality, debt, and development. All the politics are being done in the name of a park and that's the sad part. Aspen Trail Finder doesn't just list all the trails in the area, we also list all the parks in the Roaring Fork Valley. "Yes" or "No" on questions 2F and 2G, we'd like to highlight the parks overshadowed by Basalt's "Legacy Park."
Basalt has parks you don't even know about, and worse, when you're standing right there you might not even know it's a park. See Confluence Park. Basalt's tagline is "The Confluence of Rivers, Recreation and Culture." Did you know there's an official 1.2 acre park in the middle of downtown at the confluence of the Fryingpan and Roaring Fork Rivers? (See page 67 of the 2007 Basalt Master Plan.) This park is less than 1,000 feet from Basalt's River Park. There's no sign, no picnic tables, no benches, no info, nothing. It's not hard to make a park with nothing better, do anything. A sign would be a good start. (See page 2 – PDF page 4 – of the Basalt Area Parks, Open Space, and Trails Master Plan Executive Summary from August 2013.)
Let's look at what actually boarders Basalt's River Park: Midland Park, Gisella Fiou Park, Lions Park, Merino Park, and Old Pond Park. Enjoyed the afternoon at any of those? Five official parks boarder the existing River Park, with Confluence and Ponderosa Park nearby, and the reason Basalt wants to pass these ballot questions for a "Legacy Park" is adding more park space? The one thing all these parks have in common is they aren't fun for kids of all ages – no playgrounds, no swings. Remember being a kid, what was fun about a park? Playgrounds, swings, merry-go-rounds, see saws, sandboxes, and fountains are all awesome. Kids like playing. Playing is fun. Families go to the fun. Parks should be fun.
Seriously, if you're looking for a swing or any kind of playground structure in Downtown Basalt, good luck finding Cliff's Hillside Park or Arbaney Park without Aspen Trail Finder. Aspen (Wagner Park), Snowmass (Town Park), Carbondale (Sopris Park), and Glenwood (Two Rivers Park) all have parks in the heart of their towns that have something for kids to play on and enjoy. Parks should be a fun place for kids, not just a land grab for adults to fight over.
Basalt, whatever happens with questions 2F and 2G in this election, remember, you have a River Park. Maybe it stays the same size, maybe it gets bigger, but don't forget about all the other parks you already have and what makes a park fun.
Downtown Basalt's Parks (Purple Pins)
Comments