Connects: Maroon Creek Road (CR 13), Maroon Lake (9,585 ft), Maroon Bells Scenic Trail, Maroon Creek Trail (Maroon Bells), Four Pass Loop, Crater Lake Trail, Maroon-Snowmass Trail




Album Not found
Aspen, CO – Recreation Area
The Maroon Bells Scenic Area is an open area with trails at the portal to the Maroon Bells-Snowmass Wilderness surrounding Maroon Lake. The scenic area is accessed at the end of Maroon Creek Road (CR 13). The Roaring Fork Transportation Authority (RFTA) offers guided bus tours to the Maroon Bells. Bus tickets are available for purchase at Aspen Highlands. For more information see our page – Visiting the Maroon Bells.
Printable Maroon Bells Trail Map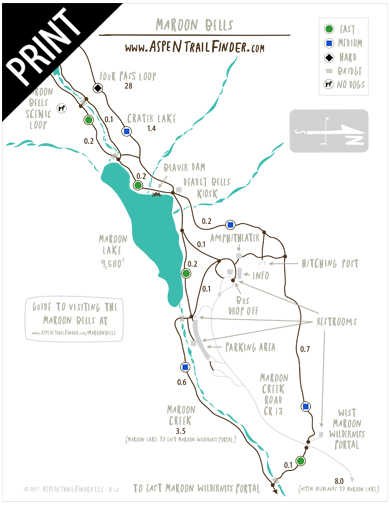 Trails Include:
Maroon Bells Scenic Trail
Crater Lake Trail
Four Pass Loop
Maroon Creek Trail (Maroon Bells)
Maroon-Snowmass Trail
News about the Maroon Bells Scenic Area can be found at:
The Aspen Times (September 22, 2016) – Forest Service says record numbers visiting Aspen's Maroon Bells
More information about the Maroon Bells Scenic Area can be found at:
White River National Forest – Maroon Bells Scenic Area
A plaque about the danger of the Maroon Bells provided by the Forest Service reads: (Click to expand)
"THE DEADLY BELLS
The beautiful Maroon Bells, and their neighbor Pyramid Peak, have claimed many lives in the past few years. They are not extreme technical climbs, but they are unbelievably deceptive. The rock is downsloping, rotten, loose, and unstable. It kills quickly and without warning. The snowfields are treacherous, poorly consolidated, and no place for a novice climber. The gullies are death traps. Expert climbers who did not know the proper routes have died on these peaks. Don't repeat their mistakes, for only rarely have these mountains given a second chance.
DO NOT ATTEMPT CLIMB IF NOT QUALIFIED"
Below the 'Deadly Bells' plaque is another plaque that reads: (Click to expand)
"In loving memory
Raymond J. Boucher
Jan. 6, 1932
Aug. 5, 1989
Greatly missed by family & friends"
A sign at Maroon Lake about wilderness provided by the Forest Service reads: (Click to expand)
"
Wilderness
As you drive the road to Maroon Valley, you are surrounded by wilderness on all sides. The Maroon Bells-Snowmass Wilderness covers 181,117 acres. One of the five original Colorado wilderness areas designated in 1964, it was enlarged in 1980 and is now Colorado's fourth-largest wilderness area.
Colorado's wilderness areas provide recreation to a growing state population. White River National Forest manages eight of these areas.
"We simply need that wild country available to us, even if we never do more than drive to its edge and look in. For it can be a means of reassuring ourselves of our sanity as creatures, a part of the geography of hope." – Wallace Stegner"
A sign at Maroon Lake about its' popularity provided by the Forest Service reads: (Click to expand)
"
The Price of Popularity
Protecting and maintaining one of the scenic jewels of North America, comes with a price tag. In a three-month period, this valley is filled with an overflowing number of people, vehicles, and activity.
The Forest Service managers face difficult choices of responsible stewardship. Competing demands require keeping the site open to the general public, protection of the famous and spectacular scenery and adjacent wilderness, and also meeting local residents' desires and demands. No electrical, sewage, or phone service reaches Maroon Valley, and the valley regularly sustains damage from an average of 10 avalanches every year. (In 1995-96, avalanches destroyed most of the structures in the valley.) Debris flows can occur every 15-20 years as well.
There are no easy solutions. Structures must be sustainable and environmentally friendly. Light and electric power comes from a micro-hydroelectric system, water is collected and saved in underground storage tanks. The toilet facilities employ the newest composting technology."
A sign at about climbing the Maroon Bells provided by the Forest Service reads: (Click to expand)
"
The Mountains Don't Care
While the Maroon Bells make for spectacular scenery – they remain a dangerous climb. The high slopes consists of rotten and unstable rock. Hiking routes are complex and misleading and may require using ropes.
Be Weather-Wary
Clear sunny mornings rapidly change to afternoon thunderstorms. Lightning often strikes high, prominent spots and can strike twice! Carry a jacket! Snow and freezing temperatures can occur even in summer.
EXPERIENCE COUNTS!
Only experienced hikers and climbers should attempt hiking or climbing on the Bells. Mountain rescues are costly, and a dangerous operation for even trained and experienced rescuers. Be a responsible adventurer.
Climbers Prepared for the Ascent Should:
Know the routes they plan to ascend and descend.
Carry plenty of food and water – enough for an overnight emergency.
Carry warm clothes, rain gear, and a flashlight.
Have the necessary climbing gear for the route.
Tell someone their travel plans.
Make a Plan B if an emergency occurs or the party gets separated.
Please Remember
This popular area is used by many different recreationists – respect others' experience."
A sign at Maroon Lake about tracks provided by the Forest Service reads: (Click to expand)
"
Tracks in Time Before Dinosaurs
Who Were the Trackmakers?
Until recently, geologists and paleontologists could only imagine the animals that roamed this area during the formation of the beds of red rock that now surround the Maroon Bells Scenic Area. The recent discovery of prehistoric animal tracks (2001) gives clues to the Paleozoic landscape of their time and to the Cenozoic landscape of our time in central Colorado.
These tracks belong to a group of tetrapod (four-feet), reptile-like creatures and includes some of the earliest plant eaters (herbivores) walking the hot tropical mudflats in search of their next meal 290 million years ago, 70 million years before the first dinosaurs.
What Was it Like Back Then?
From studying the Maroon Formation, geologists (rock scientists) can speculate, that this region was a hot and semi-arid place, located only a few degrees from the equator, and alternating between dry and monsoon seasons, much like the climates of India and Africa today.
Tracks give clues to an ancient environment's climate by the animal's foot impressions and body size. With exceptions, the bigger the foot, the bigger the animal. Body size in cold-blooded animals, like amphibians (frogs) and reptiles (lizards), relates to where these animals live on earth; the larger the animal, the closer it needs be to a warm climate. Smaller cold-blooded animals need less heat and warm faster for its body mass and can live in colder climates like here in the Rocky Mountains. For example, alligators (averaging fifteen feet) are cold-blooded animals that live in warm climates like Florida and the Tiger Salamander (averaging six inches) can live here in the Rocky Mountains (see Maroon Valley Residents panel.)
Other Tales Tracks Can Tell
While bones can give clues about the size and look of the creature, tracks represent the actual behavior of a dynamic living organism, giving us a short movie clip of its life millions of years ago. Are there any stories being told from these track ways?
Tracks can also:
Show evidence of herding behavior.
Indicate the speed of the animal's travel.
Show the posture and gait of the animal."
A sign at Maroon Lake about avalanches provided by the Forest Service reads: (Click to expand)
"
Avalanche
Avalanches present serious winter mountain hazards, and Colorado's mountains produce some of the worst avalanche conditions on the continent. In a typical Colorado winter, at least 20,000 avalanches occur in places where heavy snow accumulations combine with unstable snowpack. The Maroon Valley experiences many avalanches over the course of the winter.
The start of an avalanche can become apparent in many ways: with a quiet whump, with drum-like sounds, or with a sudden appearance of shooting cracks in the snow's surface. An avalanche can be triggered by the snap of a twig, by normal conversation, or by a light footstep on a weak patch of snow. Although avalanche paths can often be seen on open slopes, slides also occur on hillsides covered with trees and other vegetation.
From the moment it starts, an avalanche moves hard and fast, with the roar and power of a locomotive. It can travel faster than 100 m.p.h. It tumbles boulders like toys and topples large trees, pulling them downhill. No one can predict when or where an avalanche will happen, but training in avalanche awareness allows humans to minimize the risk of hiking, skiing, and climbing in the backcountry.
In a forest environment, avalanches clear the landscape, create open spaces, and allow new trees to establish. As in burned-over areas, aspens often fill in along an avalanche path. Aspens, with their flexibility and small diameter trunks, often survive avalanches better than most conifers."
US Forest Service – Maroon Bells Scenic Area Guide


Comments