Connects: Glenwood Springs Whitewater Park, Midland Avenue Trail, Defiance Trail, Olson Trail, Stevie Bob Trail, Vanderhoofin' It Trail, Wulfsohn Road, Wulfsohn Trail







Glenwood Springs, CO – Recreation Area
Wulfsohn Mountain Park is a 215 acre open space above the Glenwood Meadows Shopping Center in Glenwood Springs, CO.
Trails and Distances:
Defiance Trail 1.5 Miles
Olson Trail – 0.6 Miles
Stevie Bob Trail – 1.2 Miles
Vanderhoofin' It Trail – 0.6 Miles
Wulfsohn Road – 1.4 Miles
Wulfsohn Trail – 1.5 Miles
Rules & Regulations: (Click to expand)
No motorized vehicles
Stay on the trail
Keep right except to pass
Bikes yield to walkers
Keeps dogs on leash
No smoking or fires
Do not trespass on private property
No camping
A sign on a kiosk about the history of Wulfsohn Mountain Park reads: (Click to expand)
"
City of Glenwood Springs Wulfsohn Mountain Park
Julius Wulfsohn
Julius Wulfsohn was a prosperous Glenwood Springs dry-goods merchant who purchased much of the land between Red Mountain and the south bank of the Colorado River from Walter and Mary Devereux in 1910.
Devereux, a prominent figure in Glenwood Springs history, had earlier developed the Glenwood Hot Springs resort and the Hotel Colorado during the late 1800s. An opulently furnished three-story brick mansion called "Cedarbank," built by Captain E. E. Prey in about 1885, stood on the property for many years until is was destroyed in 1959.
The Wulfsohn family ranched and farmed here for several decades before selling the property to Union Oil, which planned to use its associated water rights for oil shale development near Parachute in the early 1980s.
In 2002, the property was deeded to the city as part of the approval of the nearby Glenwood Meadows development. In June of that year, much of the vegetation was burned off during the Coal Seam fire, which also destroyed several homes in west Glenwood Springs. Since then, much of the Gambel oak and other foliage have been growing back quickly. Soon, the charred trees on the upper slopes will be some of the only reminders of that event."
Red Mountain & Wulfsohn Mountain Park Printable Trail Map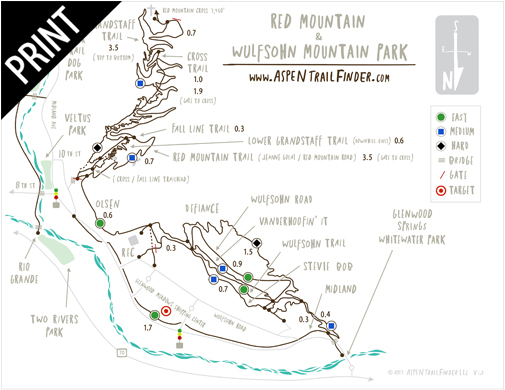 Comments