Connects: Four Pass Loop, Aspen to Crested Butte, Aspen to Marble, Maroon Creek Road (CR 13), Maroon Creek Trail (Maroon Bells), Maroon Bells Scenic Area, Maroon Bells Scenic Trail, West Maroon Portal Trail, Crater Lake Trail, Maroon-Snowmass Trail
Maroon Bells Trail Map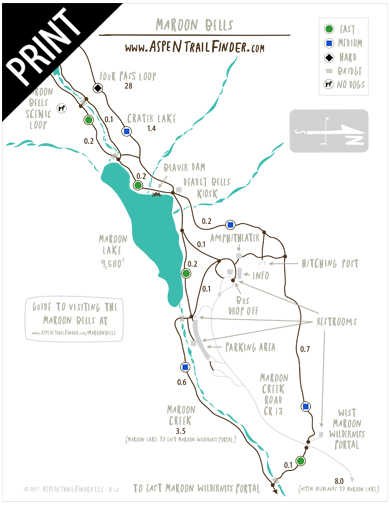 Four Pass Loop Trail Map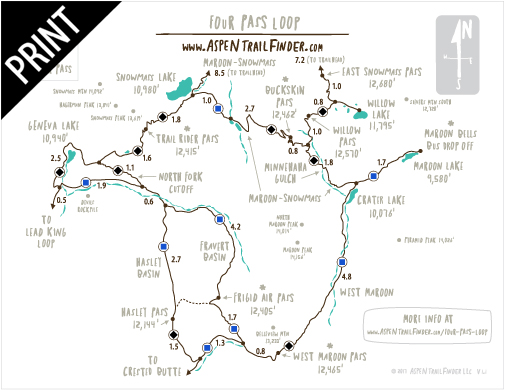 Aspen, CO – Lake
Maroon Lake (9,585 ft) is an alpine lake at the center of the Maroon Bells Scenic Area. This is a lake just outside the Maroon Bells-Snowmass Wilderness accessed at the end of Maroon Creek Road (CR 13).
Distances:
Maroon Lake to Crater Lake (10,076 ft) – 1.8 Miles
Maroon Lake to Buckskin Pass (12,462 ft)/Willow Pass (12,570 ft) Split – 3.4 Miles
Maroon Lake to Buckskin Pass (12,462 ft) – 4.8 Miles
A sign at Maroon Lake provided by the White River National Forest reads: (Click to expand)
"
Maroon Lake
Maroon Lake, like many high elevation lakes, was created by Ice-age glaciers as they slid down across the landscape. Many of the other lakes long ago filled with sedimentation. Glacial benching formed both Maroon and Crater Lakes, where the glaciers flattened areas that are suitable for collecting water. The lake itself remains dammed in by alluvial fans.
The lake and local rivers contain a combination of brook, rainbow, and brown trout. Maroon Lake is stocked and contains Colorado River cutthroat. Maroon Creek contains brook trout.
The high level of nutrients in Maroon Lake contribute to the algae growth in the lake bottom. Beavers cut and bring in tree cuttings (willow and aspen), and decay from streamside vegetation. The lake inlet stirs up nutrients, adding dissolved oxygen and creates conditions for rich plant and animal life."
US Forest Service – Maroon Bells Scenic Area Guide


Comments