Connects: Hanging Lake Trail, Spouting Rock (7,323 ft)
Glenwood Springs, CO – Lake
NOTE: A permit is now required to visit Hanging Lake. Visit www.visitglenwood.com/hanginglake, or call Hanging Lake visitor information: (970) 384-6309. Questions? Frequently Asked Questions.
Hanging Lake (7,175 ft) is a 1.5 acre lake formed by a geologic fault which caused the lake bed to drop away from the valley floor above. Water flows above from Spouting Rock, down over the Bridal Veil Falls and into Hanging Lake. There is a boardwalk that surrounds the lake to view the area. This is a National Natural Landmark, one of only 14 in the state of Colorado. This is a site in Glenwood Canyon near Glenwood Springs, CO.
To access the lake from the Hanging Lake Rest Area, hike along the Glenwood Canyon Trail to the Hanging Lake Trail on your left. From there the hike is a difficult 1.2 miles up through Deadhorse Creek Canyon to the natural landmark.
More information can be found at:
White River National Forest – Hanging Lake FDT 1850 (Hiking)
National Natural Landmarks – Hanging Lake
Glenwood Canyon & Hanging Lake Trail Map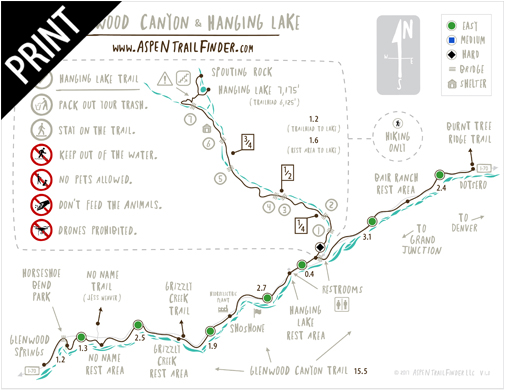 Comments