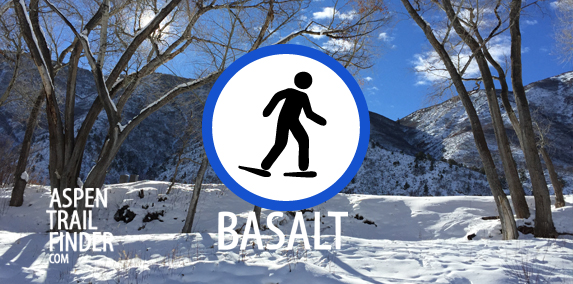 There are a couple snowshoe trails in Basalt. "Most Popular" doesn't always mean best, but it does mean these are the trails people are snowshoeing a lot. Here are 5 of the most popular snowshoe trails in Basalt:
Remember: Winter weather can be crazy and unpredictable. Be sure to check/ask about the local trail conditions before you go!
A little further downvalley from Downtown Basalt at the El Jebel traffic light a road leads you up towards Basalt Mountain on Basalt Mountain Road (FSR #524). The road has a winter gate closure where you can start your snowshoe adventure. Sweeping views of Mt. Sopris and the mid valley are your awesome winter reward.
Crown Mountain Park is a popular huge open space and park. In the winter there are two loops for snowshoeing and cross-country skiing with a dedicated track for fat biking. This is a prefect winter getaway right near town.
The Roaring Fork Club Trails offer a series of groomed winter trails right off of the Rio Grande Trail on the popular golf course of the Roaring Fork Club. This is a fun extension of trails for snowshoeing you can access quickly from the Basalt High School.
A short escape away from town heading toward Mt. Sopris is Dinkle Lake Road (FSR #311). West Sopris Creek Road (CR 6) is plowed to the beginning of The Crown where Dinkle Lake Road begins. A real winter treat awaits if you make it the full 2.5 miles to Dinkle Lake.
You'll have to drive 32 miles up Frying Pan Road (CR 104) to the winter road closure to reach the true escape and beautiful setting of Fryingpan Lakes Road (FSR #505). The road winds around the mountain and is popular with hut trip adventurers headed to the Betty Bear Hut. Another option is Hagerman Pass Road (FSR #105) that leads to Hagerman Pass.