Connects: BLM Road 8320, BLM Road 8321, BLM Road 8322, BLM Road 8323, BLM Road 8324, BLM Road 8325, Buckhorn Trail, Buckhorn Traverse, Christmas Tree Trail, Father of Ginormous Trail (Downhill Only), Glassier Trail, Glassier (Bike/Hike) Trail, Glassier (Horse/Hike) Trail, Innie Trail, Nancy's Path, Outie Trail, Porcupine Trail, Prince Creek, Prince Creek Road (CR 5), West Sopris Creek Road (CR 6)





Basalt, Carbondale, CO – Recreation Area
The Crown, also referred to as The Crown Trails, is a network of trails you can hike, run, and mountain bike that are dog friendly. This area is primarily accessed using lower trails found at Prince Creek. This area has a seasonal closure to motorized and mechanized uses from Dec. 1 – April 15. This is a network of trails on Crown Mountain near Basalt and Carbondale, CO.
A sign for The Crown Access and Travel Management reads: (Click to expand)
"Get Involved – The Crown needs your help!
The Crown is a highly valued playground for many Roaring Fork residents and visitors alike who enjoy the area for the variety of recreational activities and experiences on a shared landscape and system of routes. In addition to recreation, these lands support valuable habitat for numerous wildlife and plant species, and other natural and cultural/historic resources.
The way we ride or drive today shapes our mountain bike, motorcycle, ATV riding, and 4WD opportunities for tomorrow. Do your part to preserve and enhance your sports access and image by observing the following travel rules. Keep in mind that conventions for yielding and passing may vary, depending on traffic conditions and the intended use of the trail. Respect signing for the recommended uses shown on the map and out on the ground. Please respect other users by:
1. Ride or Drive On Open Routes Only
Do not trespass on private land. Respect trail and road closures and recommended use signs – ask the BLM for clarification if you are uncertain about the status of a trail. New route construction is illegal thru riding, flagging or removal of brush. Work with the Roaring Fork Mountain Bike Association, Roaring Fork Outdoor Volunteers, and the BLM to plan new sustainable routes as part of the larger planning effort.
2. Leave No Trace
Be sensitive to the dirt beneath you. Wet and muddy trails are more vulnerable to damage than dry ones. When the trail is soft, consider other riding options. This also means staying on existing trails and not creating new ones. Don't cut switchbacks. Be sure to pack out at least as much as you pack in.
3. Control Your Bike, Motorcycle, or ATV
Inattention for even a moment could put yourself and others at risk. Obey all regulations and recommendations and ride within your limits.
4. Yield to Others
Do your utmost to let your fellow trail users know you're coming. Try to anticipate other trail users as you ride around corners. Bicyclists should yield to all other trail users, unless the trail is clearly signed for bike-only travel. The downhill traveler should yield to ones headed uphill, unless the trail is clearly signed for one-way or downhill-only traffic. Strive to make each pass a safe and courteous one.
5. Never Scare Animals
Animals are easily stated by an unannounced approach, a sudden movement or a loud noise. Give animals enough room and time to adjust to you. When passing horses, use special care and follow directions for the horseback riders (ask if uncertain). Running cattle and disturbing wildlife are serious offenses.
6. Plan Ahead
Know your equipment, your ability and the area in which you are riding – and prepare accordingly. Strive to be self-sufficient, keep your equipment in good repair and carry necessary supplies for changes in weather or other conditions. Always wear a helmet and appropriate safety gear.
Help manage this area today and fro the future by getting involved! Join the Roaring Fork Mountain Bike Association, Volunteer with the Roaring Fork Outdoor Volunteers."
The Crown Printable Trail Map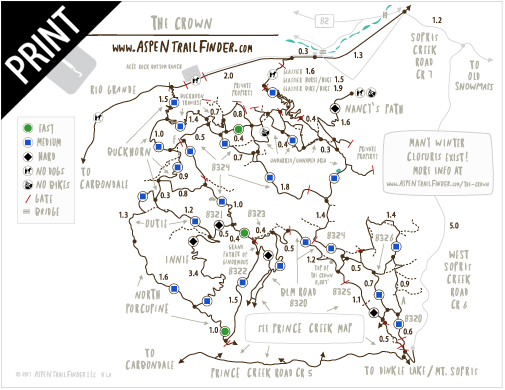 Prince Creek Printable Trail Map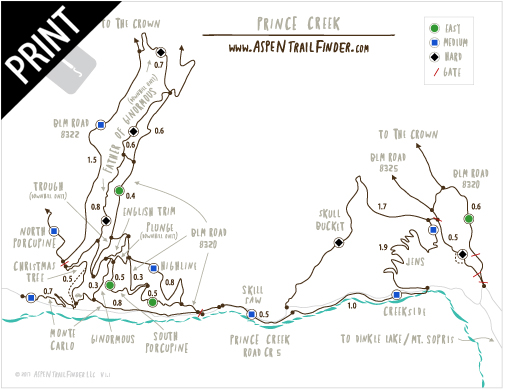 Comments