Connects: Snowmass Recreation Center, Rodeo Park, Snowmass Skate Park, Brush Creek Trail, Sky Mountain Park, Ditchline Trail, Viewline Trail, Deadline Trail (Downhill Only), Highline Trail, Tom Blake Trail, Anaerobic Nightmare Trail, Powerline Trail, Verde Trail, Government Trail, Cross Mountain Trail (Trestle), Viking Trail, Thonton Work Road, Village Bound Trail, Ditch Trail, Sleigh Ride Trail, Nature Trail, Rim Trail South Connector Trail, Rim Trail, Seven Star Trail, Horse Ranch Trail, Town Park
Snowmass Village, CO – Hard – 24 Miles – Hike, Run, Mountain Bike – Dirt
The Snowmass Loop is a 24 mile loop, primarily followed clockwise due to a downhill only trail (Deadline Trail), connecting numerous trails around Snowmass Village, CO. Multiple trails connecting this loop have seasonal wildlife closures. Sky Mountain Park area trails: Ditchline Trail, Viewline Trail, Deadline Trail, and Highline Trail along with the Rim Trail (North) have a seasonal wildlife closure from Dec. 1 – May 15. The Tom Blake Trail has a seasonal wildlife closure from April 25 – June 21. Nature Trail is closed to bikes 10 am-3 pm. Dogs are not allowed on Sky Mountain Park.
Official Snowmass Loop follows: Town Park > Brush Creek Trail (Paved) > Ditchline Trail > Viewline Trail > Deadline Trail (Downhill Only) > Highline Trail > Tom Blake Trail > Powerline Trail > Government Trail > Cross Mountain Trail (Trestle) > Thonton Work Road > Village Bound Trail > West Government Trail > Ditch Trail > Sleigh Ride Trail > Nature Trail (Closed to bikes 10 am-3pm) > Rim Trail South Connector Trail (Closed to bikes 10 am-3pm) > Rim Trail > Horse Ranch Trail > Town Park
To complete the loop from the Town Park Station (Rodeo Lot) follow Brush Creek Trail back toward Highway 82. In 0.3 miles turn right onto Ditchline Trail. The loop continues left at the Sky Mountain Park kiosk up Viewline Trail to a right on Deadline Trail. At the intersection go left onto Highline Trail where the trail ends and crosses Owl Creek Road to a small parking area to the Tom Blake Trail. Continue on the Tom Blake Trail heading right, passing the Anaerobic Nightmare Trail on up making a left on the Powerline Trail. The trail comes out at on the Snowmass Summer Road and junction for Verde Trail and Government Trail. Up the road less than 100 yards on the right is the west portion of the Government Trail. Follow this trail to the Cross Mountain Trail (Trestle). The trail drops you at the Thorton Work Road where you will cross the bridge and head towards the Ullrhof restaurant. Hug the right side of the restaurant and follow the road down to where you will eventually come to Village Bound Trail on the left. Follow Village Bound a short ways to a left back on Government Trail. After the final big descent turn right and head back toward Snowmass Village on the Ditch Trail. The end of the trail follow it across the parking area straight to Sleigh Ride Trail. In less than 100 yards, go left onto Nature Trail (*Nature Trail is closed to bikes 10 am-3 pm). After 0.4 miles go left onto a connector for the Rim Trail. The trail wraps around high above Snowmass Village eventually dropping down at Horse Ranch Trail which will lead back to the Town Park Station.
Sky Mountain Park Printable Trail Map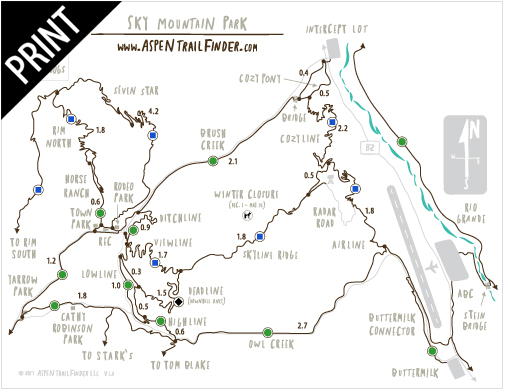 Town of Snowmass Village Trail Map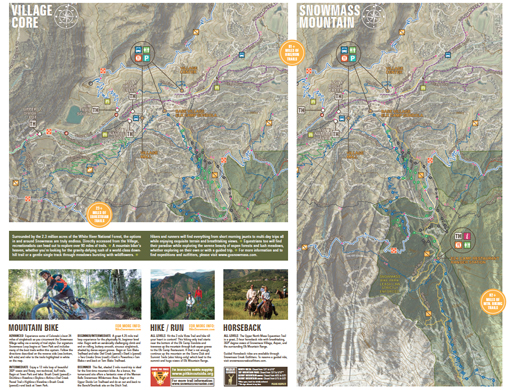 Comments