Connects: Rio Grande Trail, Glenwood Springs River Trail, O'Leary Park
Glenwood Springs, CO – Park
The River Trail Dog Park, also called River Dog Run Park and Glenwood Springs Dog Park, is an open area with dog training and playing obstacles along the Rio Grande Trail and Roaring Fork River in Glenwood Springs, CO. The hours of operation are 7 am-9 pm. This park includes:
Dog training and playing obstacles
A sign about the Rules and Regulations reads: (Click to expand)
"DOG EXERCISE AREA RULES & REGULATIONS
Patrons enter and utilize the exercise area at your own and dog's risk.
Owners are legally responsible for the behavior of their dogs at all times.
Dogs must be properly licensed, healthy, and have current vaccinations.
CHILDREN under 14 years of age may not enter the enclosure without adult supervision.
Limit of 3 dogs per adult user in enclosed area at any time.
Dog handlers must be at least 16 years of age.
Dogs must be leashed while entering and exiting the exercise area.
The City of Glenwood Springs does not assume any liability for illness, injury, or damage to any person, animal, or property resulting from use of the dog exercise area and waives no immunity granted by law.
PROHIBITED:
Smoking, Alcohol, Eating
Glass containers
Puppies younger than 16 weeks
Stollers and other wheeled devices in enclosed areas
Dog food and/or treats, including bones & rawhide
Agresive or under-socialized dogs
Dogs in heat
PLEASE LEAVE THE EXERCISE AREA IN BETTER CONDITION THAN YOU FOUND IT!
Glenwood Springs Parks & Recreation Department: 970-384-6366
Weekends, please call: 970-384-6301″
Red Mountain & Wulfsohn Mountain Park Printable Trail Map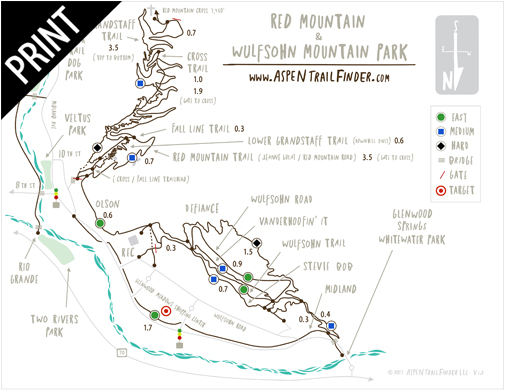 Comments