Connects: Elk Camp, Elk Camp Pond, Sierra Club Trail
Snowmass Village, CO – Easy – 0.75 Miles – Hike, Run, Dog Friendly – Dirt
Rabbit Run Trail, also called Rabbit Run Interpretive Trail, is an easy trail you can hike and run that is dog friendly. Bikes are not allowed on this trail. This trail has 0.25 miles shared with the Sierra Club Trail. This is a 0.75 mile dirt trail near Elk Camp on the Snowmass ski area in Snowmass Village, CO.
A sign at the trailhead reads: (Click to expand)
"Cool Shade, Quiet Forest
Snowmass's 3,132 acres, 91 trails, and 4,406 foot vertical rise makes it the second largest ski/snowboard and recreation resort in the country.
Through carful management and cooperative efforts, wild and pristine places can be found right in the middle of the recreational hustle and bustle. At almost every turn along this trail, visitors can witness the activities of wild animals and the steady growth of natural plant communities.
What a wonderful surprise to be able to step off the ski/snowboard trail or mountain bike path and bear witness to nature in its purest and simplest forms."
Town of Snowmass Village Trail Map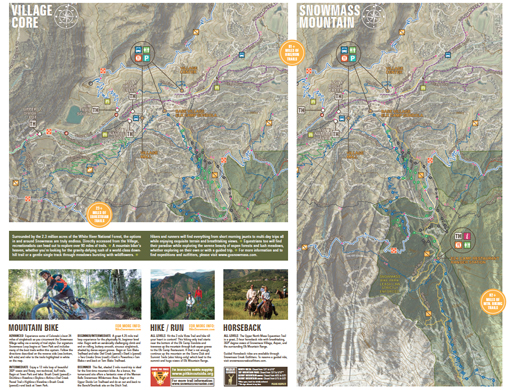 Comments