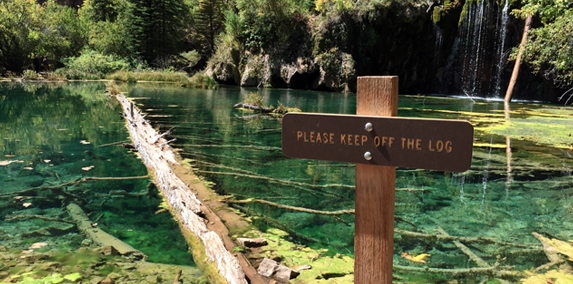 It's sad to see areas close, sad to see places you've visited before change. Imagine what Hanging Lake looked like to the first person who saw it, the boardwalks and benches that surround the lake would be an awful eyesore. But things change in an effort to keep things the same. Boardwalks, benches, signs get added. Signs let you know what you should and shouldn't do.
There's a polite sign at Hanging Lake that reads, "Please Keep Off The Log." The sign's not a verbal challenge of your physical ability. It's not that balancing on a log in the middle of the mountains above a crystal lake wouldn't be cool and you could Instagram the you-know-what out of that pic. The sign's trying to keep how awesome that place is now, awesome for later. The sign said please.
Signs aren't cops. Imagine if a speed limit sign gave you a ticket when you blew past it. The thing is signs don't do much enforcing. But, there's a good reason that sign is there.
The Forest Service has a problem. You can read about it here, here, here, and here. Humans take a toll on things. But, we can be responsible and take care of the things we love too. It's conservation.
Hanging Lake is formed by travertine deposition in this natural geologic and hydrologic process made awesome by Mother Nature. It's rare and takes thousands of years. Duh. By walking on the log you are introducing unnatural elements into the delicate ecosystem. Is the water going to turn black if you dip your finger in? No, but it's the difference between dying by guillotine or paper cuts.
Here's the solution. If a 100,000 people are using this trail, charge a $1 entrance fee. Boom. $100,000. That money is then used to pay the biggest, baddest, club bouncer available to stand by the sign and do a little more enforcing than that stick with a polite message.
Have a better solution? We particularly like public shaming as well. Let us know in the comments below.
Comments