Connects: Maroon Creek Road (CR 13), Maroon Lake (9,585 ft), Maroon Creek Trail (Maroon Bells), Maroon Bells Scenic Area, West Maroon Portal Trail, Four Pass Loop, Crater Lake Trail, Maroon-Snowmass Trail



Printable Maroon Bells Trail Map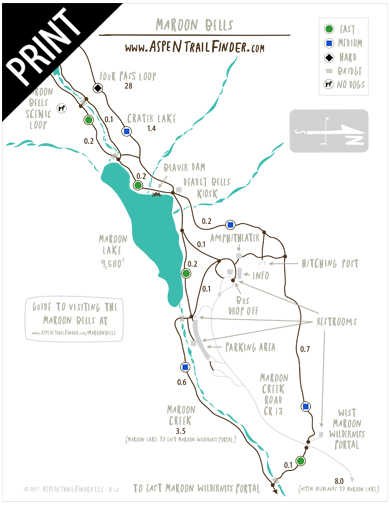 Aspen, CO – Easy – 1.5 Miles (Round Trip) – Hike, Dog Friendly – Dirt
The Maroon Bells Scenic Trail #2197, also called the Maroon Bells Scenic Loop, is an easy hiking trail. This is a 1.5 mile roundtrip dirt trail in the Maroon Bells-Snowmass Wilderness near Aspen, CO. The trail's segments are labeled different names on maps and trailheads such as: Maroon Lake Trail, Falls Loop Trail, and Upper Scenic Loop Trail. To help prevent conflicts between pets and wildlife please do not bring your dog on the Scenic Loop Trail past Maroon Lake.
At the end of Maroon Creek Road there is a path that follows around Maroon Lake. At the end of Maroon Lake is a bridge that crosses into the Maroon Bells-Snowmass Wilderness where there are falls and smaller lakes. A loop can be made around this area that returns hikers back to the bridge at the end of Maroon Lake.
More information about Maroon Lake can be found at:
White River National Forest – Maroon Lake Scenic Trail #2197 (Hiking)
A plaque about the danger of the Maroon Bells provided by the Forest Service reads: (Click to expand)
"THE DEADLY BELLS
The beautiful Maroon Bells, and their neighbor Pyramid Peak, have claimed many lives in the past few years. They are not extreme technical climbs, but they are unbelievably deceptive. The rock is downsloping, rotten, loose, and unstable. It kills quickly and without warning. The snowfields are treacherous, poorly consolidated, and no place for a novice climber. The gullies are death traps. Expert climbers who did not know the proper routes have died on these peaks. Don't repeat their mistakes, for only rarely have these mountains given a second chance.
DO NOT ATTEMPT CLIMB IF NOT QUALIFIED"
Below the 'Deadly Bells' plaque is another plaque that reads: (Click to expand)
"In loving memory
Raymond J. Boucher
Jan. 6, 1932
Aug. 5, 1989
Greatly missed by family & friends"
US Forest Service – Maroon Bells Scenic Area Guide


Comments