Connects: Rio Grande Trail, Glassier Open Space, Glassier (Horse/Hike) Trail, Glassier (Bike/Hike) Trail, Rio Grande Trail, The Crown
Basalt, CO – Medium – 1.6 Miles – Hike, Run, Mountain Bike – Dirt
Glassier Trail is an intermediate/moderate trail you can hike, run, and mountain bike. Dogs are not allowed on this trail. This area has a seasonal wildlife closure from Dec. 1 – May 15. This is a 1.6 mile dirt trail on the Glassier Open Space that links with The Crown in Basalt, CO.
Note: Glassier Open Space is closed after dark per the adopted management plan. Plan your night hikes/rides to start up the hill at dusk so you can finish on Buckhorn Trail and the Rio Grande Trail with some lights for the trip back to the parking area.
To get to the trailhead from Highway 82 in Basalt, turn onto Willits Lane. Follow Willits Lane down to a 3-way stop with Hooks Lane. Turn onto Hooks Lane crossing the bridge over the Roaring Fork River and very shortly after turn right onto the dirt road Hooks Lane Spur. In 0.7 miles, turn left up to an unmarked road and cross the Rio Grande Trail. Turn left and follow the signs to the Glassier Trailhead.
News about the Glassier Trail can be found at:
The Aspen Times (April 19, 2016) – Hikers, bikers will soon salivate over new trails in Snowmass, Emma
A sign on the Glassier Open Space reads: (Click to expand)
"
Recreational Access To The Crown
From May 16 to Nov. 30, Glassier Open Space offers hiking, mountain biking, and equestrian access to the federally managed lands of the Crown. Two distinct trails have been created to keep mountain bikers and equestrians separate as they climb to, or descend from, the Crown. Hikers may use either the mountain bike or equestrian designated trail. Equestrians are required to use only weed-free feed. Once on BLM lands, equestrians are encouraged to stay on existing two-track roads.
Dogs are not allowed anywhere on Glassier OS."
The Crown Printable Trail Map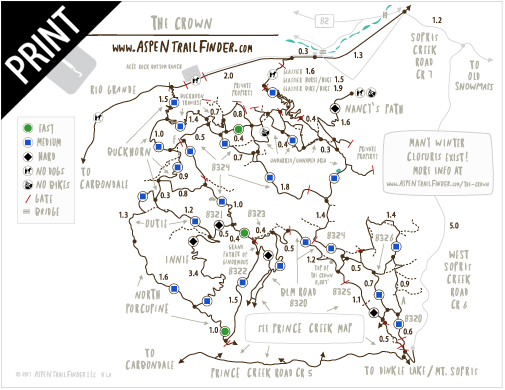 Comments