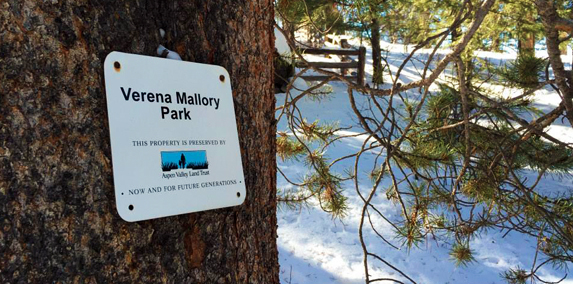 Verena Mallory died from complications of leukemia on November 1, 1993. She was the five year old daughter of Nora Berko and Howie Mallory of Aspen. In Aspen, there is a trail named in her memory, the Verena Mallory Trail. The trail is facing closure after 20+ years of use. Wait. What?
Pay attention, this is a curious case. Here's who and what you need to know:
1. Fritz Benedict – Owner of the land, created the trail
2. Verena Mallory – Daughter of Nora Berko and Howie Mallory
3. Fritz's Folly Park – Also called Hammerhead Park, later named Verena Mallory Park
4. Park Trust Ltd. – Originally Pitkin County Parks Association, later named Aspen Valley Land Trust
The Verena Mallory Trail was built by Fritz Benedict, a trails advocate and father of the 10th Mountain Hut and Trail System. He created the trail on his private land in September 1991. It's a jug handle-shaped, one-quarter mile route that's an alternate to the steeper and rockier south Hunter Creek Trail.
The Pitkin County Parks Association, was created by a group of citizens who were interested in preserving the natural environment of Aspen and the surrounding area. Fritz Benedict was active in establishing the group and was a long time board member of the organization. The Trust received its first land donation from the Benedicts in 1967 – the Freddie Fisher Park on the Roaring Fork riverbank in downtown Aspen. The Benedicts later donated Verena Mallory Park and Emilie Benedict Park, both of which wind along the Hunter Creek Trail.
Fritz and Fabi Benedict made a couple of land donations to the Aspen Valley Land Trust between 1991 and 1993. The issue is different interpretations of Fritz Benedict's intent and wording of documents related to that land. The land donation came with the stipulation that the property be used "exclusively as a natural park, open space rest area and scenic viewpoint, and for picnicking." It also included the stipulation that "no roads or trails of any kind shall ever be established or permitted to remain." That's a problem for the trail he created.
That stipulation was never enforced over the last two years of Fritz's life (He died in 1995) or his wife's, Fabi, who died two years after him (She died in 1997). The language went unnoticed for 20+ years by the Aspen Valley Land Trust.
In 2012, the Aspen Valley Land Trust began examining the feasibility of an additional trail connecting into Verena Mallory from acquired public open space, someone read the paperwork, and well, here we are.

The Trust has said it must uphold the conditions of a gift, honoring the intent of a donor, or risk its credibility. That apparently means even after 20+ years.
The question is, "What was Fritz Benedict's intent?"
Benedict himself said in a newspaper article in September 1991 that he was creating a then unnamed trail as an alternate to the other steeper path along Hunter Creek, hoping that hikers and cyclists would find the route more attractive.
This all happened a long time ago (think typewriters, not computers). We can't ask Fritz his intent. But why would Fritz want to name a trail in memory of his friend's granddaughter, if his intent was to have the trail removed? Isn't the goal of naming something after someone, in honor of their memory, to keep that memory alive, now and for future generations?
In this case, you can look at legal papers and words or look at people and their actions. Which to believe? Maybe the original name, Fritz's Folly, was spot on.
News and updates about the case and trail can be found on our trail page – Verena Mallory Trail.
Comments