Connects: Colorow Overlook (6,590 ft), Alder Park, Stairway to Heaven Trail
New Castle, CO – Medium – Hike, Run, Mountain Bike, Dog Friendly – Dirt
The Colorow Trail is an intermediate/moderate trail you can hike, run and mountain bike that is dog friendly. This is a dirt trail in New Castle, CO.
A sign at the trailhead reads: (Click to expand)
"
Colorow Trail
This moderate hiking and difficult mountain biking trail travels more than one mile to a spur overlook. The trail is amend for the Ute Indian chief who befriended the founder of New Castle.
To safeguard big game animals on winter rangeland, this access is closed December 1 to March 31.
Please keep dogs leashed. Stay on trail. No motorized vehicles access.
The trail was constructed by community volunteers and is co-managed by the Town of New Castle and BLM."
A notice at the trailhead reads: (Click to expand)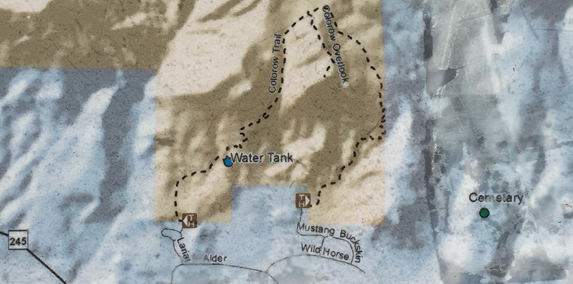 "Important Notice
Establishment/construction of any trails, or clearing of vegetation is strictly prohibited as pursuant to 43CFR 8365.1-5(2). Violators of this regulation are subject to fines.
The Colorow Trail shown on this map is the only trail open to mountain bikes. All other BLM routes in the area are open to foot and horse use only. For Additional information Contact the Bureau of Land Management at 970-876-9000."
Comments