Connects: Sky Mountain Park, Snowmass Loop, Aspen Mass Trail, Cozyline Trail, Seven Star Trail, Rodeo Park, Snowmass Skate Park, East Brush Creek Nature Trail, Town Park, Melton Ranch Trail, Yarrow Park, Owl Creek Trail, Mayfly Trail
Snowmass Village, CO – Easy – Walk, Run, Road Bike, Dog Friendly* (Sensitive Wildlife Area) – Paved
Brush Creek Trail is an easy trail you can walk, run, and bike. No dogs allowed mid Oct. through mid May. This is a paved trail in Snowmass Village, CO.
Sky Mountain Park Printable Trail Map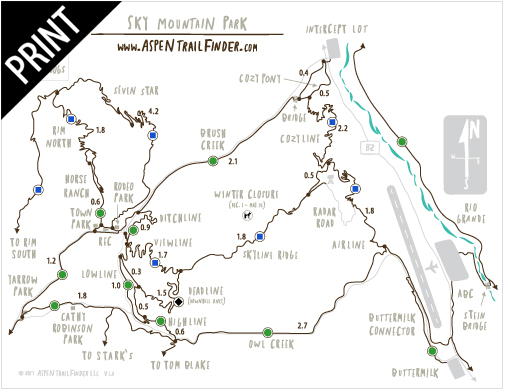 Town of Snowmass Village Trail Map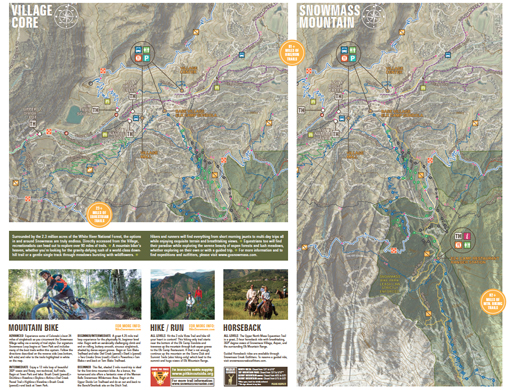 Snowmass Arts Trail Map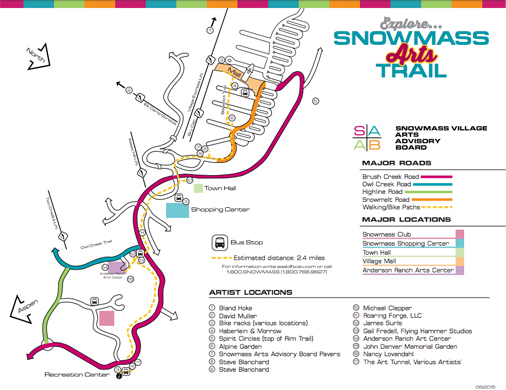 Snowmass Village, CO – Easy – 1.5 Miles (To Owl Creek Trail) – Walk, Run, Fat Bike, Dog Friendly – Plowed Snow
Brush Creek Trail is an easy winter trail you can walk, run, and fat bike that is dog friendly. The trail from the Brush Creek Intercept Lot to the Town Park roundabout is closed Dec. 1 through March 31 as a wildlife migration area. Dogs are not allow on this section. From the Town Park Station to Owl Creek Trail, this is a 1.5 mile plowed and maintained winter path in Snowmass Village, CO.
A plaque about the migration corridor reads: (Click to expand)
"
Conservation of Migration Corridors
Elk and mule deer use migration corridors to move from higher elevations in the summer to lower elevations in the winter. This movement, called "altitudinal migration," takes animals to areas where less snowfall makes food more available in winter. It is vital that we protect migration corridors to help insure animals reach critical winter range which provide needed food, water and shelter.
Seven Star property was purchased in 2005 by Pitkin County Open Space and Trails to preserve a portion of the Burnt Mountain elk herd's migration corridor which is threatened by development.
Although this property in Brush Creek Valley was specifically purchased to protect an elk corridor and winter range values, this area's habitat supports many other wildlife species such as mule deer, black bear, mountain lion, mountain cottontails, beaver, and Brewer's sparrow.
Seven Star's vegetation provides desirable forage for wildlife. The primary browse species utilized are: Gambel's oak, sagebrush, serviceberry, mountain mahogany and bitter brush."
Comments