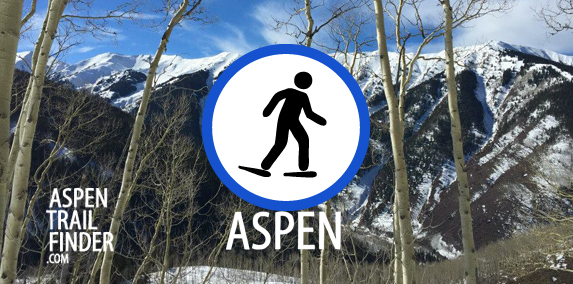 There are lots of snowshoe trails in Aspen. "Most Popular" doesn't always mean best, but it does mean these are the trails people are snowshoeing a lot. Here are 5 of the most popular snowshoe trails in Aspen:
Remember: Winter weather can be crazy and unpredictable. Be sure to check/ask about the local trail conditions before you go!
The Aspen Golf Course Pro Shop transforms into the Aspen Cross Country Center in the winter. The Aspen Golf Course Trails are a perfect spot for beginners or just a casual snowshoeing trek. The Bernese Boulevard Trail is designated dog friendly and the entire golf course extends as part of the Aspen Snowmass Nordic Trail System.
The Hunter Creek Valley is a beautiful spot to relax and snowshoe around an open area. The valley neighbors Smuggler Mountain, affectionately called "Aspen's Backyard," an amazing network of trails open in the winter as well.
The North Star Loop at the North Star Nature Preserve is a quiet spot just east of town where you can enjoy easy open snowshoe hikes on this gently figure 8.
Independence Pass is closed in the winter, but the road can be a wonderful winter adventure. From the winter gate closure there's lots of snowshoeing and exploring available up this wide closed road.
While skiing dominates Aspen Mountain, from the top of the Silver Queen Gondola on the backside of the mountain is Richmond Ridge. This closed winter road has plenty of adventure behind it if you bring your snowshoes up the gondola. You can also hike up Aspen Mountain or down on the side closed winter roads, Little Annie and Midnight Mine Road.