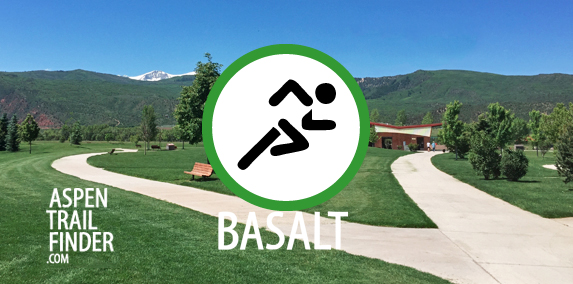 There are lots of running trails in Basalt. "Most Popular" doesn't always mean best, but it does mean these are the trails people are running a lot. Here are 5 of the most popular running trails in Basalt:
The Rio Grande Trail is a straight shot through the Basalt area and a nice wide paved path with a soft shoulder. Connect with the Basalt/Old Snowmass Trail for a larger loop around Basalt.
The Basalt/Old Snowmass Trail is a nice branch off the Rio Grande Trail that leads right into Downtown Basalt. The trail is a nice wide paved path with a stretch that meanders through a neighborhood. If you want to get a serious trail run workout in jump on the Arbaney Kittle Trail when you get into the neighborhood.
Connecting Downtown Basalt to Willits is easy with the Downtown Basalt-Willits Trail, though the trail is a mix of paved trails and sidewalks. From Downtown Basalt the trail picks where Emma Road meets the Emma Trail and after the crossing Emma Bridge take a left onto the sidewalk to follow the path down and around to Willits. If you want a nice riverside break in the middle, take a relaxing stop at .
Hillside Trail is a wonderful skirt on the edge of the Basalt State Wildlife Area overlooking Downtown Basalt. Stunning views of Mount Sopris dominate the backdrop of the little town below on this trail run.
The Crown Mountain Park Loop is a simple 1 mile paved path around Crown Mountain Park. It's wide open and the run can feel like a track meet. Head over to the Crown Mountain River Trail if you want to mix in some trail running.