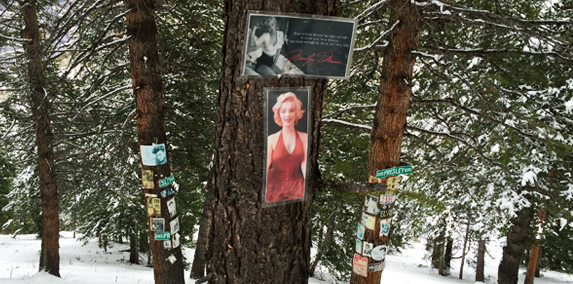 Aspen is full of secrets. Beneath the glamour and celebrity of Aspen, this elite mountain town of the rich and famous carries a lot of history. Hidden in history are secrets. On Aspen Mountain you'll find world-class skiing. There's also old abandoned mines, underground tunnels that connect to Smuggler Mountain, and buried deep in the mountain's forest, shrines.
Nobody can tell you for sure where they all are, or just how many are actually out there. Some are old, some are new. Some come, some go. Some move. Some are hidden deep in the steep trees off double black diamond ski runs, some are an easy pull off anyone could find.
Some shrines are elaborately decorated sanctuaries, some are just a plaque or sign. The items in any shrine vary widely. There's all sorts of trinkets and treasures: photos, flowers, skis, chimes, license plates, shirts, Christmas cards, a guitar, hammock, skillet, underwear, and even strung up bones. They are all very different, but all have a common tie. Some are of celebrities, others are local fathers, mothers, sons, and daughters. They aren't all happy places, but they all help us remember something special about life. They are places where someone or something is remembered.
If they are secrets, a lot of people know about them. When is the secret out? There's a website, book, newspaper articles, entertainment articles, blog posts, videos, more videos, more newspaper articles, newspaper shrine this, newspaper shrine that. There's a lot out there about the shrines. A plaque on some Silver Queen gondola cars reads:
"Sprinkled throughout the trees on Aspen Mountain are shrines paying homage to the likes of Elvis Presley, Marilyn Monroe, John Denver and other famous entertainers. The shrine in honor of Grateful Dead front-man Jerry Garcia, created in the early 1970s, is believed to be the first. The Elvis shrine began as a way-finding sign someone put in the trees on Back of Bell in order to find their way back to the lift. The best way to find the shrines – as they are hidden deep in the trees – is to ask a local or patroller for directions."
You can ask the ambassadors, ski patrol, or ski instructors and it's like an insider's game of hot potato to find what's hidden in the mountains. And maybe that's what makes it so intriguing. There isn't a map of the shrines (though Elvis' shrine was listed on a kids' trail map), and yet they are out there, waiting to be found by someone. People like secrets.
There are hints where these snowy sanctuaries can be found. Maybe the unwritten local rule is to be vague and not help someone find something they are looking for. If you wander long enough and look hard enough, once you find that secret place is it then your secret to keep too? Either way, you won't find the Knights Templar guarding any of these shrines should you choose to enter the forbidden forest.
Aspen's secret shrines are kind of like Victoria's secret. You've got a good idea what they are about, but you'll never know all the details. This site's goal isn't to blow the lid off these special places by showing you where some are. We don't know where they all are and that's the thing about secrets. Some secrets get out and others hold tight to the people that keep that special thing hidden from others.
What do you think of Aspen's shrines? Which shrine is your favorite? Did you build a secret shrine and nobody knows about it? Let us know in the comments below.
Comments