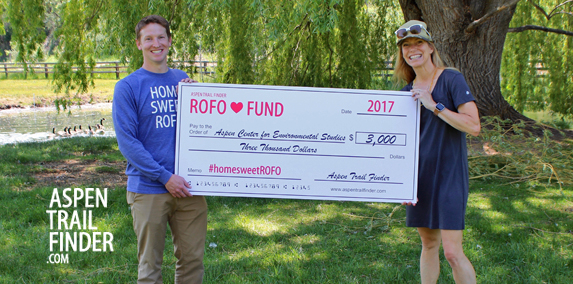 The Aspen Trail Finder Roaring Fork Fund, or simply ROFO Fund, is our charitable giving arm to aid local land, river, trail, and outdoor education nonprofits in the Roaring Fork Valley. The ROFO Fund is a donor advised fund through the Aspen Community Foundation (ACF). All gifts to the ROFO Fund are tax deductible and all the money stays in the valley, assisting 501(c)(3) organizations around Aspen, Snowmass, Basalt, Carbondale, and Glenwood Springs.
Each year, Aspen Trail Finder will have an online poll with 3 projects we'd love to fund. Users vote for their favorite and we'll give a grant to the project that gets the most votes! Our goal is to get people involved in giving back to the Roaring Fork Valley, even if that's as simple as clicking a button. Read more about our goal on our blog at Case for the ROFO Fund or watch this video – The ROFO Fund Explained in 1 Minute. You can also check out our ROFO Fund FAQ.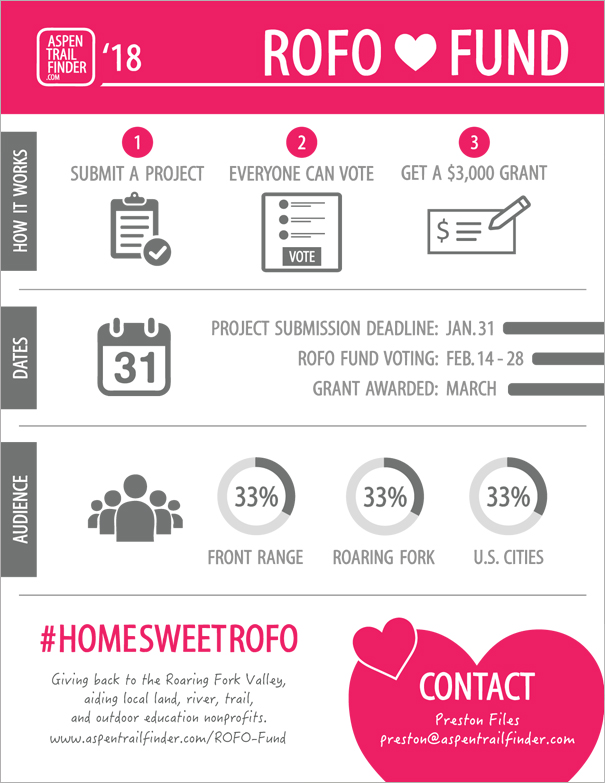 ROFO Fund FAQ
Where does the money come from?
Anyone can contribute and all donations are tax deductible! We wouldn't be able to provide this fund without the help of our amazing sponsors. Download our media kit and email us for any questions about sponsorship opportunities.
Who can vote?
Everyone can vote! Online voting is live February 14-28. Users may vote once every 24 hours.
Who can submit a project?
Anyone from a local nonprofit with a focus on land, river, trail, or outdoor education and who's project will aid the Roaring Fork Valley.
How do I submit a project?
There's no form, format, or official application. Simply email your project consideration to Preston at preston@aspentrailfinder.com. Your email should include a description of the project, how the grant money would help impact that project, and any links or attachments that would help users better understand your project. Be creative: send photos, make a presentation, create a video, create a page online – anything that might help swing the voters! The project submission deadline is January 31.
How are the 3 projects to be voted on selected?
Aspen Trail Finder will narrow down the project submissions to our 3 favorite projects based on uniqueness, ability to make a difference, and provided material/presentation. Users will be able to click on links to find out more about each of the 3 projects selected as well as more info about that nonprofit.
What will online voting look like?
We'll have a dedicated page on our site with a poll and more info about each project. Check out our 2017 ROFO Fund Voting Results!
When is the grant awarded?
A $3,000 grant to the project with the most votes will be awarded in March.
Wait, is this real?
Yes! We know right, we are giving away money and letting users decide where it goes. The ROFO Fund really helps local outdoor focused nonprofits do more of what they do best.
We created a campaign centered around our love for the Roaring Fork Valley, #homesweetROFO. Our Home Sweet ROFO campaign removes town/county labels, government boundaries, and brings together local outdoor focused nonprofits. The staple of our campaign is the ROFO Fund. You can help. Get involved. Give back.