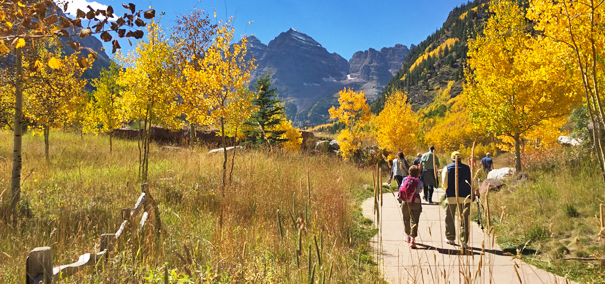 The iconic Maroon Bells are said to be the most photographed mountains in North America. Located in the White River National Forest in the Maroon Bells-Snowmass Wilderness, these stunning 14ers are not to be missed. The Maroon Bells are located 10 miles from Aspen, up Maroon Creek Road. Accessibility by car to the Maroon Bells Scenic Area is limited. For more information about the Maroon Bells call the Forest Service Maroon Bells Information Hotline (970) 945-3319.
Printable Maroon Bells Trail Map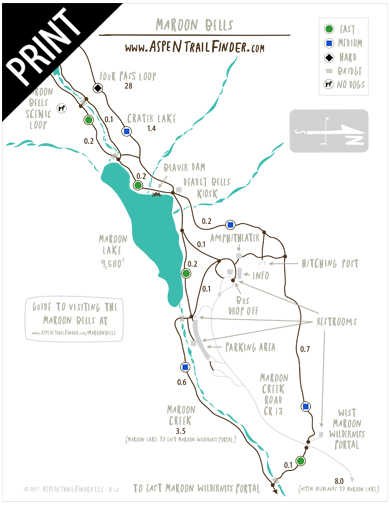 How do you get to the Maroon Bells?
Non-Motorized
The road to the Maroon Bells, Maroon Creek Road, is open to all non-motorized forms of transportation free of charge (hiking, running, biking, etc). It is 8 miles one-way from Aspen Highlands to Maroon Lake. When in operation, buses are free coming down from the Maroon Bells Scenic Area.
Driving
From the roundabout on HWY 82 just outside of Aspen heading west, take Maroon Creek Road. If you drive up to the Maroon Bells prior to 8 AM or after 5 PM you will be able to use your car with a $10 fee. There are some exceptions.
Bus
The bus to the Maroon Bells can be accessed at Aspen Highlands, 2 miles up Maroon Creek Road on the left. There is limited parking available at Aspen Highlands for $5 per vehicle. Bus tickets can be purchased for $8 inside at Four Mountain Sports. Buses depart every half hour.
From downtown Aspen, you can also take the Castle/Maroon RFTA bus from the Rubey Park Transportation Center. This bus is free and departs every 20 minutes starting on the hour. Take the Castle/Maroon bus to Aspen Highlands and then you will need to buy a ticket and transfer to the Maroon Bells Bus.
Are dogs allowed at the Maroon Bells?
Yes, but dogs must be leashed at all times.
When is the road to the Maroon Bells open?
Previous Opening Date:
May 13, 2017
May 15, 2016
May 15, 2015
May 16, 2014
Previous Closing Date:
November 21, 2016
November 15, 2015
November 15, 2014
What you need to know
There are NO services at Maroon Lake, or in the backcountry near the Maroon Bells. There is a visitor center, restroom, and water fountain open in the summer where the busses unload. Be prepared before you go. Camping is only allowed at: Silver Bar, Silver Bell, or Silver Queen, and at designated sites around Crater Lake. Reservations are strongly encouraged through www.recreation.gov, reservations are not taken at the Welcome Station.
Summer
Maroon Creek Road typically does not open until after Memorial Day. From mid-June to the beginning of October, the Maroon Bells can only be accessed by public bus between the hours of 8 AM and 5 PM. You can drive your own car before 8 AM and after 5 PM or if you have a child, age 2 and under, in a car seat (other exceptions apply). If you drive there is a $10 per vehicle fee at the Welcome Station. The Forest Service staffs the entrance Welcome Station from 7 AM to 7 PM.
Maroon Bells Bus
8 AM-5 PM
$8 for adults
$6 for youth aged 6-16
$6 for 65 and over
FREE for Children under 6 years
Tickets can be purchased at Four Mountain Sports in Aspen and at Aspen Highlands Village
Private Vehicles
Before 8 AM/After 5 PM
$10 per vehicle
Parking
Aspen Highlands (Parking Limited)
8 AM-5 PM
$5 per vehicle
Bus from Aspen to Highlands
Castle/Maroon RFTA Bus
Every 20 mins on the hour
FREE
Overnight Camping
There are 35 overnight parking spaces at the Maroon Bells for backpackers. Overnight backpackers are required to use the bus from 8 AM-5 PM, or until parking is full in the morning, whichever happens first. You are not allowed to taxi backpackers 8 AM-5 PM. Bear canisters are required for overnight backpackers in the Maroon Bells-Snowmass Wilderness. Backpackers are not allowed to park in the day use parking area. Backpackers may park in the overnight parking for up to 5 days. If you plan to stay longer than 5 days, you will need to park at Highlands and take the bus up or find an alternative way to get the Maroon Bells.
Winter
Maroon Creek Road typically closes to vehicular traffic in mid-November for the winter season. The only way to get to the Maroon Bells in winter is to snowshoe, cross-country ski or snowmobile. It is 6.4 miles one-way from the winter road closure at T-Lazy-7 Ranch to Maroon Lake. For more information about seasonal closures and winter camping call the White River National Forest: (970) 925-3445
Special Exceptions
Exceptions for Vehicles:
Valid Handicap placard
Handicap license plates
Disability license plates
Permanently disabled national pass
Horse trailers
Exceptions for People:
Holders with Special Use Permits issued by the Forest Service
Infants that require a restraining child seat (2 or younger. Booster seats do not qualify)
11 people or more, in same vehicle, $3/person
People Camping at:
Silver Bar
Silver Bell
Silver Queen