Connects: Glenwood Canyon, Glenwood Canyon Trail, No Name Trail (Jess Weaver Trail)
Glenwood Springs, CO – Medium – 3.4 Miles – Hike, Run, Dog Friendly – Dirt
The Grizzly Creek Trail #2065 is an intermediate/moderate trail you can hike and run that is dog friendly. This is a 3.4 mile dirt trail in Glenwood Springs, CO.
More information about Grizzly Creek Trail can be found at:
White River National Forest – Grizzly Creek Trail FDT #2065 (Hiking)
A sign at the trailhead reads: (Click to expand)
"
Water for a growing Glenwood Springs
The story of water diversion on Grizzly Creek begins in 1888 when the Grizzly Creek flume was built to help No Name Creek supply clean water for the fledgling Glenwood Springs.
By the early twentieth century this effort was not adequate for the growing city's thirst. So a tunnel was blasted through the mountain to replace the flume."
For ninety years rock slides and avalanches damaged the Grizzly Creek pipeline. It was replaced with enormous effort in 1999. A state-of-the-art system, it now carries water to Glenwood Springs.
Glenwood Canyon & Hanging Lake Trail Map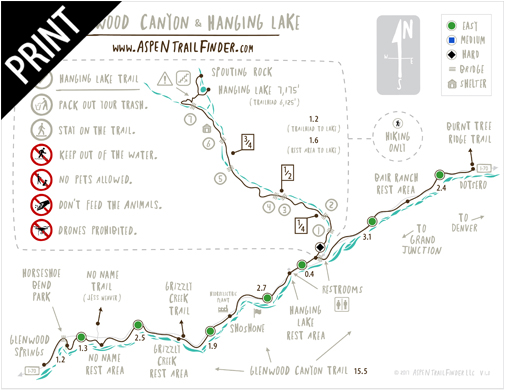 Comments