Connects: Red Hill, Bogus Trail, Faerie Trail, Outer Loop Trail, Northside Loop Trail
Carbondale, CO – Hard – 1.6 Miles – Hike, Run, Mountain Bike, Dog Friendly – Dirt
Elk Traverse Trail is a difficult trail you can hike, run, and mountain bike that is dog friendly. Seasonal closure – Dec. 1 – April 15. This is a 1.6 mile dirt trail on Red Hill in Carbondale, CO.
More information about Red Hill can be found at:
Bureau of Land Management (BLM) – Red Hill Recreation Area
A plaque at the trailhead reads: (Click to expand)
"
Critical Winter Range
The area beyond this point is designated Critical Winter Range for deer by the Colorado Division of Wildlife. To minimize impacts to the sensitive deer herd, this area is closed to bicycle use from December 1 through March 31
Please consider this when choosing where to hike. Eliminating winter use minimizes impacts to wildlife and is essential to their survival. It is also extremely important to keep dogs on a leash in this area year-round.
DO NOT DISTURB!
Deer eat sagebrush and other woody shrubs in the winter. The lower elevation and availability of food make this area critical for their survival. In winter, deer use more energy than they can replenish. This energy deficit makes them very susceptible to stress.
Disturbance from hikers, bicyclists, and especially dogs cause deer to use up so much energy that they may not survive."
Red Hill Printable Trail Map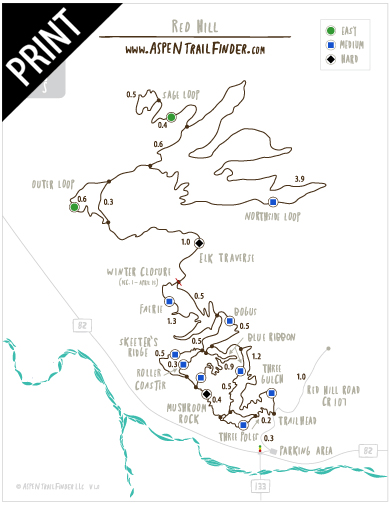 Comments