Connects: Glenwood Canyon, Hanging Lake Trail, Dead Horse Creek, Forest Service Road #622
Glenwood Springs, CO – Hard – 3 Miles – Hike – Dirt
NOTE: This trail has been decommissioned by the Forest Service.
Dead Horse Trail #1851 is a difficult trail you can hike. The trail is a 3 mile trail near Glenwood Springs, CO.
To get to the trailhead, start at the Hanging Lake Trail head up the trail and cross the first 2 bridges. After crossing the second bridge follow the wooden railing up and right after the end of the railing look to the right where you can cross the creek to the trail. There are no signs or markings.
More information about Dead Horse Trail can be found at:
White River National Forest – Deadhorse Trail #1851
Glenwood Canyon & Hanging Lake Trail Map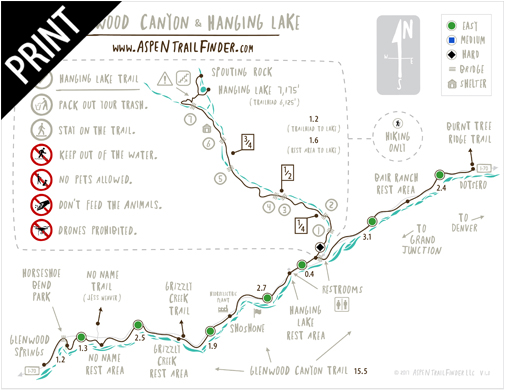 Comments