Connects: Red Mountain Trail (Jeanne Golay Trail/Red Mountain Road, Fall Line Trail, Grandstaff Trail, Red Mountain Cross (7,450 ft)



Glenwood Springs, CO – Hard – 1 Mile – Snowshoe, Dog Friendly – Snow
The Cross Trail is a difficult trail you can snowshoe that is dog friendly. This is a snow packed winter trail in Glenwood Springs, CO.
News about the Cross Trail can be found at:
Post Independent (November 12, 2017) – Red Mountain trail safety measures taken
Signage near the trailhead provided by the Frontier Historical Society about the Red Mountain Cross reads: (Click to expand)
"Red Mountain History
Why is There A Cross On Red Mountain?
In the summer of 1901, William Grandstaff, an old prospector who had been working gold claims on Red Mountain, had not been seen in town for many weeks. A local youngster was sent up the hill to check on Grandstaff, only to find him dead in his cabin. A committee of townspeople, including the coroner, was dispatched to the cabin. The cause of death was determined to be starvation and Grandstaff was buried on Red Mountain under a tree which stood in the shape of a cross. The tree stood silhouetted for many years at the top of the mountain, but the elements and disease took its toll and eventually, the cross blew to the ground.
In 1951, employees of the Glenwood Springs Electric Department replaced the tree cross with a wooden cross measuring 40 feet by 18 feet. The new cross was electrically lighted using power from the ski tow and placed on city property on a lower ridge of the mountain. This cross stood for forty years.
In 1991, a challenge from the ACLU forced the removal of the cross from city property. A non-profit organization was formed; a metal cross was built and placed on private property at the top of the mountain. In 1998, vandals destroyed the cross so a newer, sturdier cross was erected. William Grandstaff, for whom the original cross was placed, is now a distant memory and the present day cross stands today to light the holiday seasons.
Outdoor enthusiasts familiar with the Moab, Utah area may be interested to know that Negro Bill Canyon, a popular hiking and biking trail there, is named for William Grandstaff. He lived in the canyon prior to coming to the Glenwood Springs area. Upon arriving here, Grandstaff opened a saloon where South Canyon meets the Colorado River, serving the miners of the coal camp at South Canyon. Later, Grandstaff sold the saloon operation and settled on Red Mountain.
For more Glenwood Springs history, please visit the Frontier Historical Museum at 10th and Colorado"
Red Mountain & Wulfsohn Mountain Park Printable Trail Map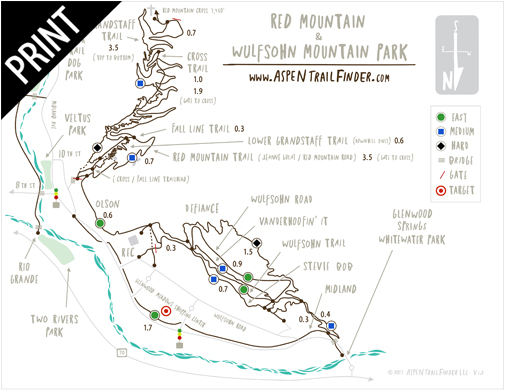 Comments