Advertise on www.aspentrailfinder.com and reach over 100,000 people visiting Aspen and the Roaring Fork Valley! Our outdoor loving audience online has a big reach: 33% Roaring Fork Valley, 33% Colorado Front Range, and 33% from across the US. Get your business and product in front of a targeted outdoor specific active audience and reach the people before they reach Aspen. Check out our numbers and download our media kit. Ready to start advertising? Email preston@aspentrailfinder.com to get started!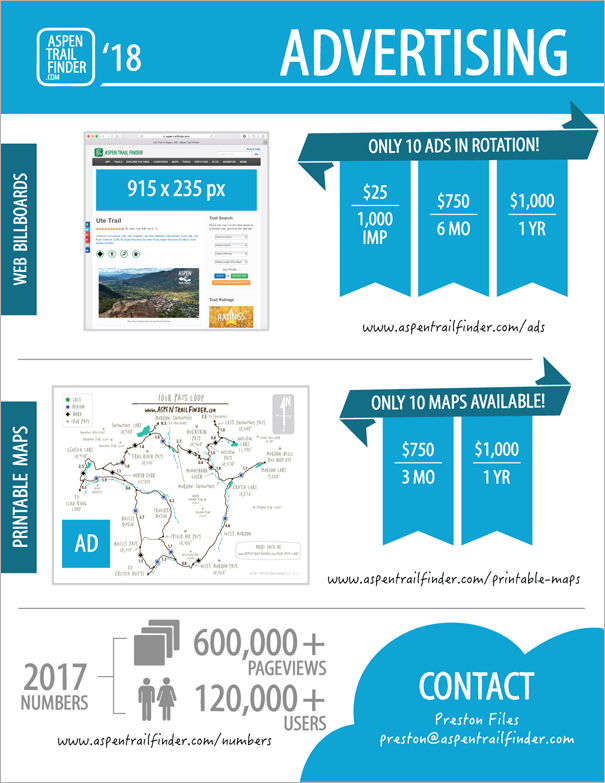 Why our advertising is different?
We consider our ad space another important area of information for our users. Users have a more positive experience with our ads, rather than being bombarded with junk in obvious ad overloaded sites. By advertising with Aspen Trail Finder you get a major online presence in front of an already targeted audience – active, outdoor loving, locals, part-time residents, and visitors to Aspen and the Roaring Fork Valley. We'll give you your impression tracking, click-through-rates, and the ability to change your ad image and link.
Advertising Options
Our site has one large ad on each page – a Billboard Ad 915×235 px (same ratio as a scaled 970×250 px standard Billboard web ad). We have two advertising options:
1. Pay by impressions (each time your ad pops up): $25/1,000 Impressions
2. Pay Monthly: $750/6 Months or $1,000/12 Months
How many people can your ad reach?
Aspen Trail Finder's growth is bonkers. Check out our numbers!
Sponsorships
Show you love local by supporting this local resource. We aren't part of a national website. We aren't owned by some big company. We only care about one area, the Roaring Fork Valley, and nobody covers it like we do. Let's get creative and work together. Email us – info@aspentrailfinder.com
Thank You
Aspen Trail Finder wouldn't be able to provide this resource without the help of our advertisers, sponsors, and generous contributors. Thank you!
Aspen Trail Finder by the Numbers
Our numbers just keep growing! In addition to a strong social media presence on Facebook, Instagram, Twitter, and Snapchat, Aspen Trail Finder's web traffic is its' strength. Download our media kit and email us for any questions about advertising or sponsorship opportunities.