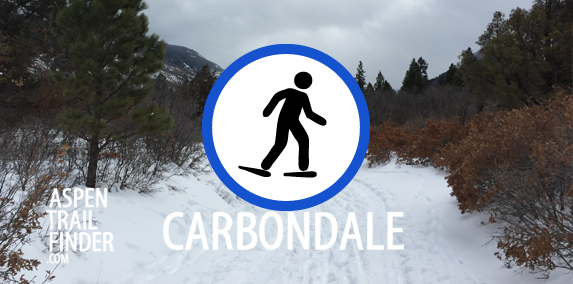 There are a couple snowshoe trails in Carbondale. "Most Popular" doesn't always mean best, but it does mean these are the trails people are snowshoeing a lot. Here are 5 of the most popular snowshoe trails in Carbondale:
Remember: Winter weather can be crazy and unpredictable. Be sure to check/ask about the local trail conditions before you go!
Just outside of Carbondale, off Highway 133 is a bridge crossing over to Avalanche Creek Road (FSR #310). The road has a winter gate closure where you can start your snowshoe adventure. Sweeping views of the Avalanche Creek Valley await you at every turn. Dogs are prohibited from November 23 through May 1 in the area though, as it is a critical wildlife winter range.
Quietly located in the Town of Carbondale is the dog friendly, wide open area of Delaney Nature Park. The snow packed, regularly used path forms a big loop around the area with plenty of space to wander.
Up Thompson Creek Road (CR 108), just before the cross-country skiing only trails of Spring Gulch, is the Marion Gulch Trail. This forest trail through numerous Aspens winds in and out of groves and offers a quick escape out of town.
A short escape away from town heading toward Mt. Sopris is Dinkle Lake Road (FSR #311). Prince Creek Road (CR 5, 111) is partially plowed and from the winter closure, you have many snowshoeing options. Snowshoe around the many Prince Creek Trails or head up to the top where a 2.5 mile road leads off to Dinkle Lake.
A beautiful winter drive 17 miles up Highway 133 to the Town of Redstone leads you to the Coal Basin Monument and the beginning of Coal Creek Road (FSR #307). The Coal Creek Basin is a glorious spot where you can snowshoe along the closed winter road.