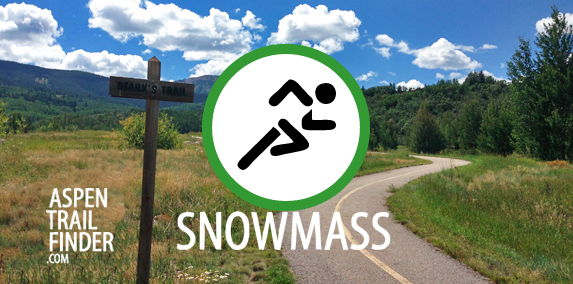 There are lots of running trails in Snowmass. "Most Popular" doesn't always mean best, but it does mean these are the trails people are running a lot. Here are 5 of the most popular running trails in Snowmass Village:
One of best way to run around and get a feel for Snowmass Village, the Brush Creek Trail is a paved trail with gentle climbs and descends. It connects with Highway 82 on the far side of the Brush Creek Valley and winds around the Snowmass Club Golf Course to the base village. You can connect with the Owl Creek Trail to make a larger loop.
The Owl Creek Trail is a beautiful paved path from the intersection with the Brush Creek Trail in the middle of Snowmass Village that climbs and winds back down to the Aspen Airport and Buttermilk Ski Area.
The Ditch Trail is an easy, flat hike that winds around the back side of the Snowmass Ski Area with spectacular views of the Snowmass Creek Valley.
Stark's Trail begins as a paved path off of the Owl Creek Trail climbing up to a neighborhood trailhead that traverses through beautiful stands of Aspen trees and forest that transitions to Powerline Trail.
Sleigh Ride Trail is a gentle wide gravel path from the Snowmass Village Mall up to the top of Divide Way that is a quick, pretty trail run.