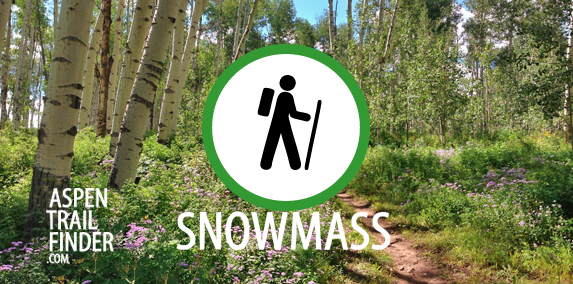 There are lots of hiking trails in Snowmass. "Most Popular" doesn't always mean best, but it does mean these are the trails people are hiking a lot. Here are 5 of the most popular hiking trails in Snowmass Village:
The Ditch Trail is an easy, flat hike that winds around the back side of the Snowmass Ski Area with spectacular views of the Snowmass Creek Valley.
From the bottom of the Elk Camp Gondola, the Vista Trail climbs through lush evergreens and aspen groves until you reach the top of Elk Camp. This trail has a wonderful mix of beautiful forest and stunning panoramas of Snowmass.
The Tom Blake Trail winds through beautiful, deep groves of Aspen trees across the Snowmass Ski Area and is truly a locals' favorite. There are lots of variations to the trail as intersects with the Tom Blake Equestrian Trail. If you are looking for a super hike, be sure to make the connection with the Anaerobic Nightmare Trail.
The Rim Trail takes hikers high up along a ridgeline overlooking Snowmass Village with amazing views. If you only hike a portion of the trail, start at the South Rim Trailhead and pack a lunch to Spiral Point, also called the yin/yang, a beautiful marble platform with spectacular views.
Viewline Trail climbs up an exposed area with phenomenal views of Snowmass Village and the surrounding mountains. This trail is also the main gateway to Sky Mountain Park with many more trails. If you are looking for a big day of hiking continue on along Skyline Ridge Trail it's completely breathtaking.