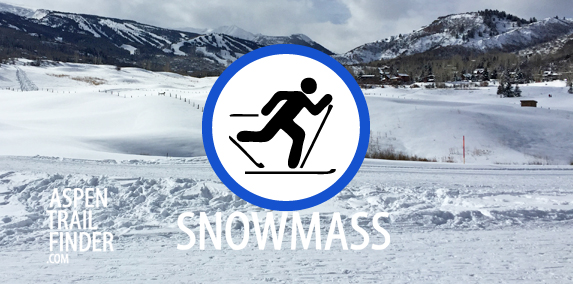 There are lots of cross-country skiing trails in Snowmass. "Most Popular" doesn't always mean best, but it does mean these are the trails people are snowshoeing a lot. Here are 5 of the most popular cross-country skiing trails in Snowmass:
Remember: Winter weather can be crazy and unpredictable. Be sure to check/ask about the local trail conditions before you go!
The Snowmass Club Golf Course transforms into the Snowmass Cross Country Center in the winter. The Snowmass Golf Course Trails are a perfect spot for beginners to learn and enjoy cross-country skiing. The Labrador Lane Trail is designated dog friendly and the entire golf course extends as part of the Aspen Snowmass Nordic Trail System.
The Owl Creek Trail is a stunning connection linking the Buttermilk Ski Area with the Snowmass Ski Area. This is the best trail to xc ski between Aspen and Snowmass in the vast system of cross-country and snowshoeing trails.
The Terminator Trail winds up and down through the forest with stunning scenery. This is a more challenging cross-country ski trail with some hills, but it's a beautiful winter escape right in Snowmass Village.
The road to the Maroon Bells, Maroon Creek Road (CR 13), is closed to vehicles in the winter and is a completely stunning winter experience on cross-country skis. From the winter road closure at T-Lazy-7 Ranch it is 6.5 miles to Maroon Lake.
The Brush Creek Trail is one of the best ways to see Snowmass, by cross-country skiing on the trail that hugs the villages main road.