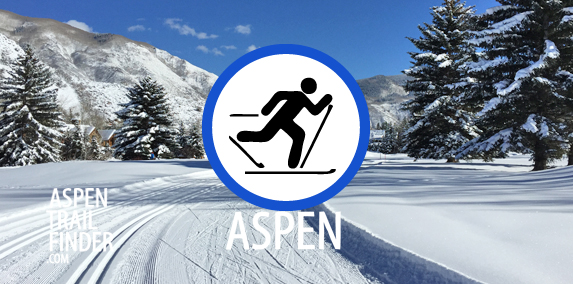 There are lots of cross-country skiing trails in Aspen. "Most Popular" doesn't always mean best, but it does mean these are the trails people are snowshoeing a lot. Here are 5 of the most popular cross-country skiing trails in Aspen:
Remember: Winter weather can be crazy and unpredictable. Be sure to check/ask about the local trail conditions before you go!
The Aspen Golf Course Pro Shop transforms into the Aspen Cross Country Center in the winter. The Aspen Golf Course Trails are a perfect spot for beginners to learn and enjoy cross-country skiing. The Bernese Boulevard Trail is designated dog friendly and the entire golf course extends as part of the Aspen Snowmass Nordic Trail System.
The Aspen High School Trails offer some of the most challenging in town cross-country skiing. There are plenty of easier connections to keep you cross-country skiing using the Marolt Trail and Moore Trail. Crossing the Terral Wade Bridge (Tiehack Nordic Bridge) feels like you're riding on the Polar Express.
When it snows the Maroon Creek Club's golf course transforms into the beautiful Maroon Creek Club Trail. A system of cross-country and snowshoeing trails in the heart of Aspen awaits.
The road to the Maroon Bells, Maroon Creek Road (CR 13), is closed to vehicles in the winter and is a completely stunning winter experience on cross-country skis. From the winter road closure at T-Lazy-7 Ranch it is 6.5 miles to Maroon Lake.
The North Star Loop at the North Star Nature Preserve is a quiet spot just east of town where you can enjoy easy open cross-country skiing on this gently figure 8. The Benedict Trail is a little used XC skiing only trail to connect you back to town.