Single Track
trail that is approximately the width of the bike
Double Track
contrasts with singletrack in that it has two paths, which are approximately parallel. Jeep trails and fire roads are examples of a doubletrack trail.
Confidence Marker
Some sign that others have been here before, and that you are generally headed in the right direction.
Fish Scales
Glamping
Glamping is the combination of glamour and camping, also called glamorous camping. It is a way to experience the great outdoors without sacrificing luxury, while experiencing all the positive aspects of camping and removing any of the user's negative aspects of sleeping outdoors.
Hero Dirt
The exact right consistency and moisture that almost no wrong can be done because traction is unbelievably good.
Single Track Also see Double Track
Rando (Randonnée) Also see SkiMo and Uphilling
Blazes
In heavily wooded areas, trail blazes are often marked on trees. The markings may vary by trail or agency, but they are generally found at eye level, easily visible even in deep snow. In earlier times, blazes were carved into the tree with an axe or a knife. The US Forest Service standard for carved blazes resembled a blocked letter lower case "i". Although falling out of favor for environmental reasons, in many parts of the country these carved blazes can still be found. Because most are not being "re-carved", the bark is beginning to grow back, making them less obvious.
Cairns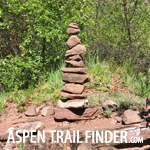 A cairn is a collection of rocks stacked in a way that gives direction or confirms someone was there.
Trail Duck
Wilderness
Described in The Wilderness Act of 1964, Congress defines this are as "an area where the earth and its community of life are untrammeled by man, where man himself is a visitor who does not remain."