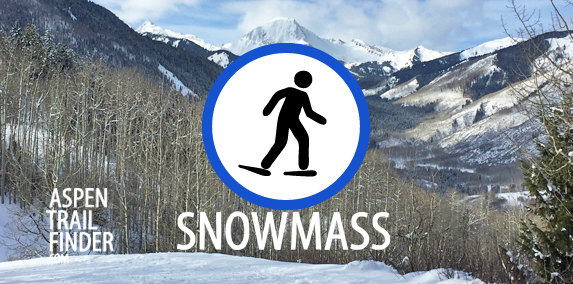 There are lots of snowshoe trails in Snowmass. "Most Popular" doesn't always mean best, but it does mean these are the trails people are snowshoeing a lot. Here are 5 of the most popular snowshoe trails in Snowmass:
Remember: Winter weather can be crazy and unpredictable. Be sure to check/ask about the local trail conditions before you go!
The Ditch Trail is a wonderful winter escape that cuts across the Snowmass Ski Area. The highlight of this snowshoeing trek is the view of Mt. Daly at the edge of the Powderhorn Ski Run.
Cutting up and down the Snowmass Ski Area Campground side ski runs is the Divide Way. The road is unmaintained from the top of Snowmass Village at Krabloonik's down to Snowmass Creek. Stay alert as dog sleds may be passing by.
When it snows the Snowmass Club's golf course transforms into the beautiful Snowmass Golf Course Trails. A system of cross-country and snowshoeing trails in the heart of Snowmass Village awaits.
The Sleigh Ride Trail is an easy slope connecting to the Snowmass Mall through beautiful aspens. This is a great family friendly winter walk.
The Terminator Trail winds up and down through the forest with stunning scenery. This is a more challenging snowshoe trail with some hills, but it's a beautiful winter escape right in Snowmass Village.