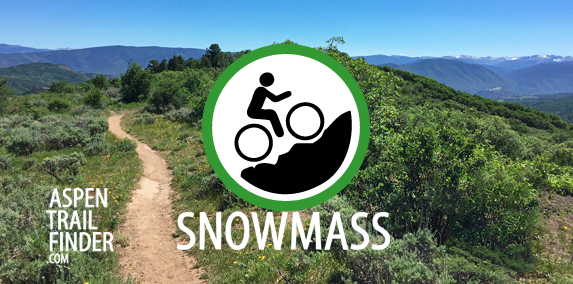 There are lots of mountain biking trails in Snowmass. "Most Popular" doesn't always mean best, but it does mean these are the trails people are mountain biking a lot. Please note, all of these trails have seasonal closures that are strictly enforced. Here are 5 of the most popular mountain biking trails in Snowmass:
The Rim Trail is a wonderful single track ridgeline ride known for its great workout and scenic views. You can start at either the North or South Rim Trailhead, both sections start with a climb up to the alpine ridgeline each with breathtaking views of Snowmass Village and the surrounding peaks. Don't miss Spiral Point, also called the Yin Yang, a large marble platform that is an ideal place to catch your breath and take in the scenery.
Seven Star Trail, recently added to the trail network, is a mountain biking must in Snowmass Village. The trail connects to the ridgeline of the Rim Trail and flows down into the Brush Creek Valley connecting with the Brush Creek Trail and can be used to connect with Sky Mountain Park.
The Skyline Ridge Trail is a ride on top of Sky Mountain Park with amazing endless views. There are multiple trails to the top, but you're going to love both Airline Trail and Cozyline Trail that can get you there.
Deadline Trail is a downhill mountain biking dream. The trail is a one-way downhill only ripping fun ride with awesome mountain views, if you can take your eyes off the trail.
The Snowmass Loop isn't just one trail, it's a medley of Snowmass Village's greatest hits. While fun in pieces too, mountain bikers attempting the full 24 mile loop, should go clockwise due to the downhill only Deadline Trail. It's an easy enough loop to follow, there are Snowmass Loop markers on each of the trailheads you need to follow.